Coco Blanche comprises of 5 beautiful self-catering villas just a stone throw away from Anse Royale beach! Whether you're staying in Coco, Coco Rouge, Coco Tandre, Coco Germe or Coco de Mer, rest assured you get unmatched value for your money!
Although we are self-catering, we understand that it's the little things that make a big difference to your holiday experience. That's why, we are always at hand to help make your stay with us as comfortable and as easy as possible. If you need a rental car, we book it for you. If you need a transfer to and from the airport or jetty, consider it done! Whatever your needs, we offer a number of extra services that you won't find at many self-catering establishments, simply because we care about the people who stay with us!
Our attractive daily rate offers you an affordable stay with special offers in place for longer visits. Being a family run establishment on private property, our hospitality will ensure that your stay in Seychelles is a memorable one.
We look forward to welcoming you to paradise!
About the owners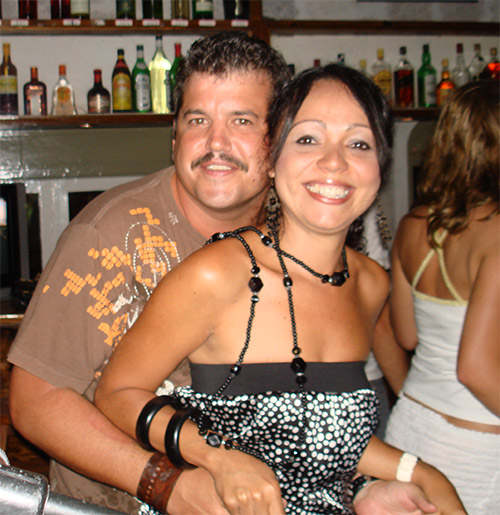 Coco Blanche is owned and managed by the husband and wife team of David & Caroline Deltel. David has over 20 years of Marketing and Management experience having previously worked as a Marketing Manager for a leading telecommunications company. He is also somewhat of a local celebrity as a singer/songwriter having released 5 albums in Seychelles to date and can often be found strumming his guitar with the guests over a drink or two!
Prior to setting up Coco Blanche in 2011, Caroline was a qualified hair stylist running her own salon for over 15 years. David and Caroline pride themselves on offering their guests a friendly and warm service that leaves their guests feeling totally relaxed and completely at home! The couple love to mingle with their guests and are always prepared to go the extra mile to ensure their guests leave Seychelles with Coco Blanche in their hearts!
Why choose Coco Blanche?
You feel right at home at Coco Blanche – it's that simple! Being a self-catering establishment, you are in total control of your time and your day. You wake when you want, you eat when you want and your villa is designed spaciously to allow you plenty of room to release any stress and tension that you may have been carrying before coming to Seychelles. Located in Anse Royale, you also feel more in touch with the Seychelles culture and will often see the local fisherman selling their catch opposite the road or the school kids as they laugh and skip their way to school. You can mix with the friendly local Seychellois who are always willing to chat to a visitor. More than this, Caroline & David will treat you like family and rest assured you will feel part of the family by the time you leave!
Awards
Coco Blanche has received many international awards from leading booking agents such as Booking.com, TripAdvisor and Holiday Check to name a few. Year in and year out, our top rated service is recognized thanks to the brilliant reviews from our guests. A consistent, excellent rating of 9.0+ on Booking.com is an example of this and shows our commitment to ensuring a great guest experience, We are so very proud of our little business and we thank all the guests who chose to stay with us over the past few years. Once again, a massive thank you to Lucy, Maricel, Olave and Malli for all the hard work!